12 minutes read report, 9 pages
To help speed reading green is used for numbers that have a risk-on effect, red is used for numbers with risk-off effect, blue is used for new arguments, forecasts are underlined and found at the beginning of each page.
How the forecasts did:
It's been an awful week for my forecasts in all fronts. Long AUDUSD, short USDCAD, short USD, long EURUSD are all in the red. No forecast has been made for EURJPY and GBP.
The risk-off mode, with the significant downward revisions of EU's projections and equities sell-off, was beyond my expectations during the Chinese holiday week. The risk-off mode could easily end if the upcoming US-China trade negotiations conclude.
Major events of last week:
Germany-Japan:

Chancellor Merkel visited Prime Minister Abe in Japan. Promoting the new EU-Japan trade deal, concluding a pact on sharing sensitive security info, promoting reforms of the WTO was in the agenda

Korea:

South Korea will boost it's annual contributions to $1bn to keep the US troops on the peninsula

US Equities:

Google, GM, Disney, Twitter reported earnings. Most of them beat expectations but failed to avoid free falling.

USA-World Bank:

David Malpass, a critic of multilateralism, has been proposed for the Presidency of the World Bank, against the arguments that the management of such organizations need to start representing the global power swifts.

China-Taiwan:

No military drills happened during the Lunar holiday. The differences were expressed by two viral videos in social media.

Venezuela:

The crisis continues. Maduro is backed by China, Russia and the Venezuelan army. On the other hand Guaido

is backed by 40 states including

the USA. The first trucks with humanitarian aid are not allowed to enter the country.

Cryptos:

Total market cap at $121bn,

+6.0% w/w

, -85% from last year's $821bn peak

. The death of the CEO of QuadrigaCX exchange made $200million worth of assets inaccessible due to the lost passwords.
Major events of next week:
US-China Trade negotiations continue in Beijing. Both Mnuchin and Lighthizer will attend.

Tuesday's release of the monthly report of OPEC and the Thursday's webcast of BP are set to shed light to oil industry, 30 days before the beginning of the CERA week.

Friday's deadline that could mark the beginning of a new US government shutdown. The Pentagon has already sent 3.5K troops to the US-Mexico border to develop 150miles of concertina wire.
JPY
Long EURJPY at 123.54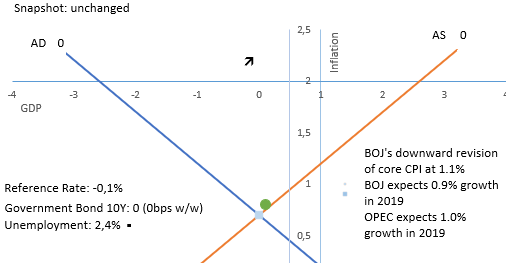 Strengths of JPY:
the recent equity sell off

improving macro readings:

unemployment,

current account,

average cash earnings, household spending

, bank lending

,

housing starts,

capital spending,

industries activity,

industrial production, manufacturing PMI
Weaknesses of JPY:
deteriorating macro readings:

GDP reading (expected to decrease in 2019)

, inflation, retail sales,Services PMI, M2, trade balance,

monetary base

,

sentiment reading
Watch / New Releases:
Monday is a holiday

GDP, M2, industrial production

Next Monetary Meeting on 15 March
AUD
Long AUDUSD at 0.7015
Strengths:
improving macro readings: GDP,

trade balance,

inflation, unemployment, M1, service PMI, AIG manufacturing index,

household consumption recovered in 3Q18, wage price index,

construction index

, consumer's sentiment
Weaknesses:
The governor of the Central Bank (RBA) referring to the interest rates, reminded that over 2018 the next-move-is-up scenarios were more likely than the next-move-is-down scenarios. Now, he said that the probabilities appear to be more evenly balanced

Uncertainty on household consumption due to

low income growth, high levels of debt and housing becoming a buyers market

, remains. Yet consumer sentiment is improving.

Australia is having a

minority government

and

RBA signals no rate hike.

Elections are scheduled for May

deteriorating macro readings:

retail sales,

inflation gauge

, inflation expectations,

job advertisements

, manufacturing PMI, home sales,

home loans,

current account,company operating profits,

business confidence,

decreasing capital expenditure,

building approvals

, private capital expenditure, private sector credit
Watch / New Releases:
Home loans, consumer sentiment

Next monetary meeting on 5 March.
CAD
No forecasts for CAD
Strengths of CAD:
improving macro readings: inflation, current account,

building permits

, foreign securities purchases, corporate profits
Weakness of CAD:
deteriorating macro readings:

GDP,

unemployment,

trade balance, Manufacturing PMI, manufacturing sales, wholesale sales, retail sales,

Ivey PMI
Watch / New Releases:
Manufacturing sales

Tuesday's monthly report of OPEC and Thursday's report of BP

Next Monetary meeting on March 4. I am expecting a rate hike.
USD
I keep my ground and favor short USD index positions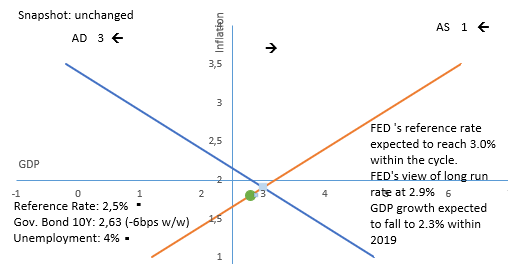 Strengths of USD – Risk off points:
the recent equity sell off.

deteriorating macro readings: GDP, current account, retail sales,

Non-manufacturing PMI

, consumer credit,

optimism

,consumer confidence,

consumer credit

, home sales, vehicles sales
Weaknesses of USD -Risk on points
Trump asked for a Reciprocal Trade Act, at his latest address to the Congress

FED changed it's communication and is currently on hold.

The US economy grows with

no signs of inflation.

New releases are expected this week.

Improving macro readings:

trade balance

, Manufacturing PMI, durable goods orders, industrial production, capacity utilization rate, consumer sentiment, construction spending, wholesale inventories moving lower
Watch / New Releases:
inflation, retail sales, business inventories, capacity utilization rate, consumer sentiment

the development of a potential new government shutdown

next Monetary Meeting on 20 March. No hike is expected.
EUR
I am favoring long positions, but first I want to see a reversal pattern emerging before committing to buy.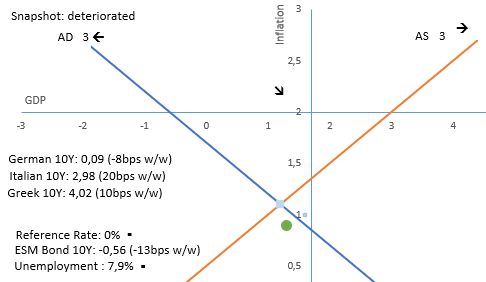 Strengths of EURUSD:
improving macro readings:

M3, trade balance,

unemployment,

Services PMI, German Trade balance

,

wage growth, industrial production,

economic sentiment, private loans
Weaknesses of EURUSD:
downward revisions of expected GDP growth from European commission. 1.3% EU growth from 1.9% expected in November, 0.2% Italian growth from 1.2%. Inflation revised to 1.4% from 1.8%

markets are projecting at least another 2-3 years of re-investment of maturing securities and the first rate hike in 2020

Both the

German and the Italian

Economy reported negative GDP q/q growth.

Worsening relations between France and Italy over the

'gilets jaunes' and immigration

deteriorating macro readings: GDP, inflation,

PPI,

retail sales,

manufacturing PMI, current account,

investor confidence

,consumer confidence,

German factory orders, German industrial production

, German retail sales
Watch / New Releases:
German GDP q/q, European GDP and Trade balance

Monday's Eurogroup and Tuesday's Ecofin

Next Monetary Meeting on 7 March.
GBP
No forecasts for GBP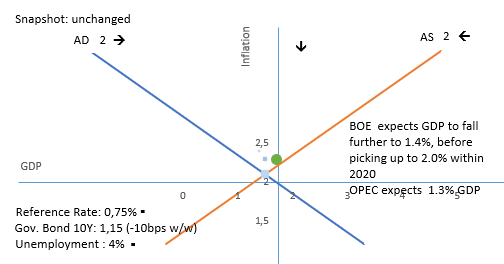 We are only 7 weeks away from the deadline of Article 50 and I am still favoring an extension of the deadline, new elections and/or a new referendum, as the most likely outcomes
British and European negotiating teams will re-engage the next week.
Strengths:
improving macro releases: GDP m/m, unemployment,

retail sales

, Manufacturing production, M4, average earnings and wages, decreased inflation, lending to individuals, trade balance, construction output
Weaknesses:
inflation has fallen back, close to the 2% target, and GDP growth has slowed. Future interest rates rises should be gradual and limited (as inflationary pressure is expected over the next years)

the ongoing uncertainty is already evident at macro readings, and could drag on until July. Investments have been hit the most

deteriorating

macro releases:

Service PMI

, consumer's confidence, current account, industrial order expectations, home prices,

Construction PMI

, Manufacturing PMI
Watch / New Releases:
Disclaimer
Issued by Labis Michalopoulos, CFA
Redistribution is allowed as long as the author and his contact details are referenced.
The snapshot section of each page, contains the latest published figure of major macro releases. It is not a result of now-casting models that would potentially have revealed the effects of current US government shutdown. The coloring of bond yields depends on more than one equation/rule.
My net returns are published in real time at www.forexfactory.com/dxmix I was experiencing an Annual Sharpe Ratio of 1.73 for over 45 months (montly Sharpe ratio above 0.5) . On 24 August, I mistakenly ordered to open a position 10 times bigger that I am used to. My equity level is currently back on track, but my statistics are no longer impressive. My 48 months monthly Sharpe Ratio, that includes the leveraged AUDUSD trade, now stands at 0.30, equal to 1.03 Annual Sharpe Ratio.
This material is for Qualified Investors and Professional Clients only and should not be relied upon by any other persons.The degree of confidence in our forecasts gets smaller, the more knowledge we posses for each security.
Past performance or past accurate forecasts is not a guide to future performance and the accuracy of future forecasts and should not be the sole factor of consideration. All financial investments involve an element of risk. Levels and basis of taxation may change from time to time.
This report is for information purposes only and does not constitute an offer or invitation to anyone to invest or trade and has not been prepared in connection with any such offer.
Any research in this document has been produced by Labis Michalopoulos, CFA for his own purpose. The views expressed do not constitute investment or any other advice and are subject to change. The author has an interest in the currency pairs, indexes and any other security disclosed in this report as he is an active trader.
Reliance upon information in this material is at the sole discretion of the reader.